Men's lace up shoes in a nutshell: a mix of style and comfort. It is well known that women love "stealing" items from men's wardrobe and they really go crazy about Derby shoes. Over the centuries indeed, women could not resist the androgynous charm and comfort of this footwear. These shoes were introduced to the feminine universe in the first years of the 20th century by divas as Greta Garbo and Marlene Dietrich, both icons of style and seduction.
They gave scandal wearing clothes and shoes that until then were exclusively used by men. However, dressing like a man in the 1940s and 1950s became a well known fashion trend and no longer a sort of eccentricity. From the 1980s onwards the stylist Giorgio Armani introduced derby shoes into the modern fashion industry.
Nowadays this type of footwear is a real must have for every season for both men and women and is available in two different versions: Oxford and Derby. Oxfords always have eyelet facings sewn very close together under the vamp (front section of the shoe). The shoe is elegant, formal and the fit less adjustable. On Derby shoes, instead, the eyelet facings are sewn above the vamp. Therefore, you will have a more comfortable lacing and a more casual, fresh look. Once you try a Derby shoe, you will never go back!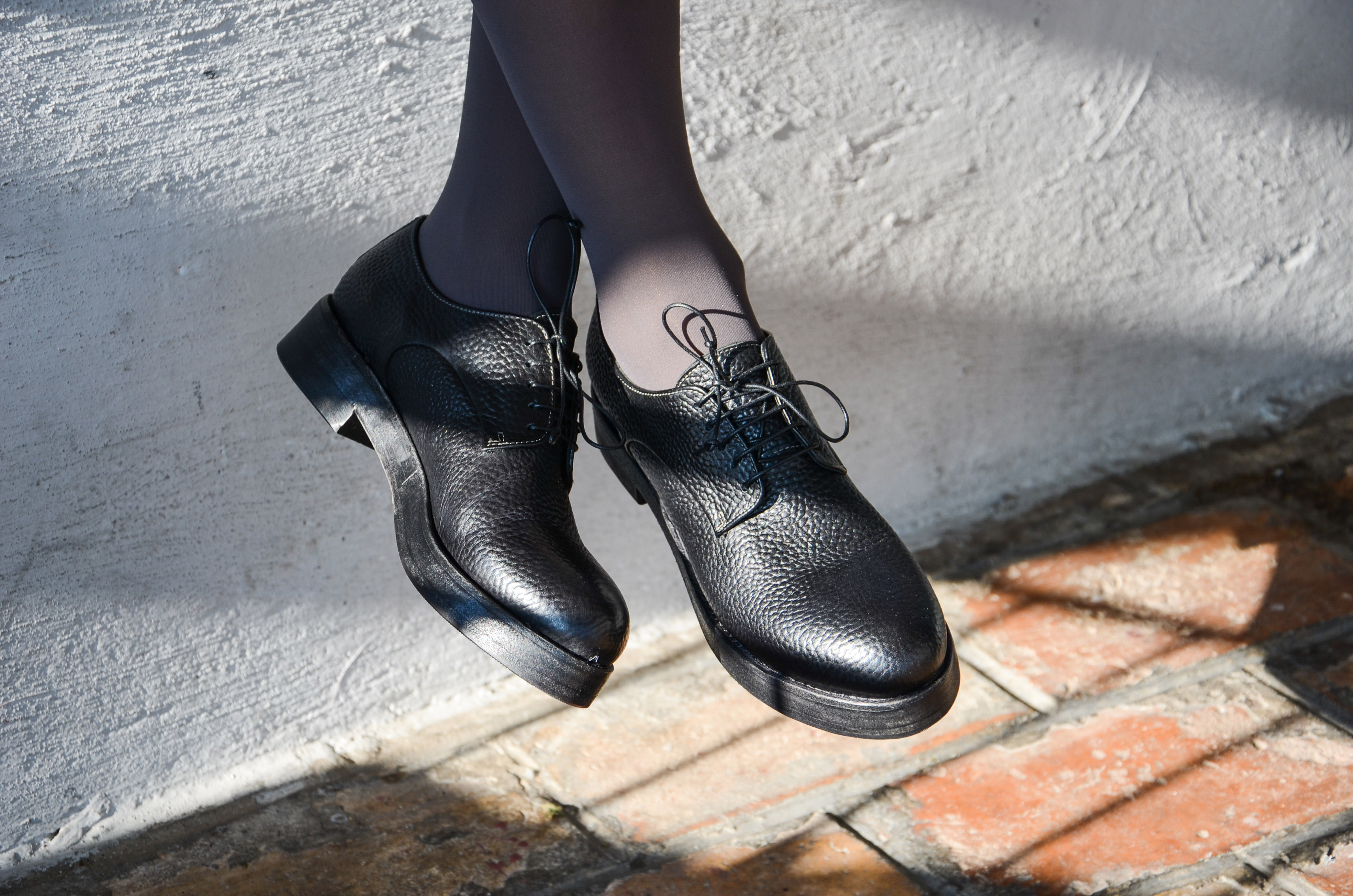 It is perfect matched with typically autumnal/wintry fabric suits, maybe a tartan one, to create a warm and cosy outfit. Try it under a trouser suit for a perfect menswear-inspired look. A very glamorous combination would also be with leggings or skinny jeans.
Hot-pants and skirts are welcomed too, just choose your favourite one: mini, midi, maxi, pleated, flared and so on and so forth! Then wear a pair of soft, warm socks or sensual tights and that's it, you've got it!
Matching these comfortable shoes is a piece of cake! They can really avoid you a fashion mistake, are always the right choice and may save you from wearing a fashionably complex or risky outfit. They can also be you spare shoes during a high-heel-wearing night out. A winning solution for any outfit!
So, we all agree that Derbies and Oxfords are essential for every woman in any autumn/winter season. Their classic and timeless lines go perfectly with our taste, our attention to details (embroideries, studs, applique, cuts, decorations, etc. ..) that make the difference.
Thanks to the dream and passion of Giovanni Tartufoli, the founder, Kingtartufoli has been producing footwear for over 60 years. Today his sons continue his work sharing the same values as he does. Not only a dream that came true but also a well-established reality! Not yet a customer? Give yourself the luxury of something nice and comfy buying #Kingtartufoli shoes. Make yourself a precious gift.