Early boots appeared during the XVIII century and were exclusively a male footwear. Only a century later they were included in women's fashion footwear remaining there forever. Nowadays there are a thousand versions: high, low, pointed, in leather, in satin, with studs and so on and so forth. Despite their "age", boots can still amaze us and make us fall in love season after season.
They have now their own identity, a history and a proper name. As a white flower could actually have another name instead of "daisy", boots, to be accurate, cannot be all called just "boots". Let's see then some boots names and their features in order to be a bit more aware of what we are buying when we shop.
Here the most mainsteream boots:
Biker boots: also known as Motorcycle boots, they are one of the most popular models of boots in the world. Born as motorcycle boots, they end just a few inches above your ankle, are very comfortable and often studded behind the heel.
Booties: generally end right at the ankle and have low/medium heels.
Beatle boots: a model of boot that has been worn since the 1960s when the famous band "The Beatles" made it popular worldwide. Comfy and adherent to the ankle thanks to the exclusive elastic band.
Combat boots: designed to be waterproof and provide a good grip, they were used by soldiers during the First and the Second World War. From the 60s on they have become a fashion choice and the symbol of the young people's subcultures grown on the banks of the Thames.
Ugg boots: sheepskin boots originating in Australia that appeared on the market during the 70s thanks to the Australian surfer Shane Stedman, who invented them to warm up feet after being in cold water. In 1982 he registered the famous brand UGH.
Riding boots: originally with a stirrup and high heels, they were born to be used for horse riding, today they are also worn as walking boots.
Texas boots: the typical "cowboy" boot with full western style born around the 16th century. They were the favourite one of rock stars in the '70s and' 80s.
Indianini boots: they were designed by the master craftsman Hector, who has been working leather in Riccione for decades and has become an icon for at least two generations. In the '80s once he was back from a trip to Quebec, inspired by the footwear worn by the "Native Americans", decided to create his own boot.
Cuissard boots: we saw them on many celebrities during the last winter. However their beginnings are attributed to the Musketeers of Louis XIII who used to wear them under their uniforms. In the 1960s the shiny leather ones worn by Brigitte Bardot went around the world and Julia Roberts in Pretty Woman finally made them becoming top class.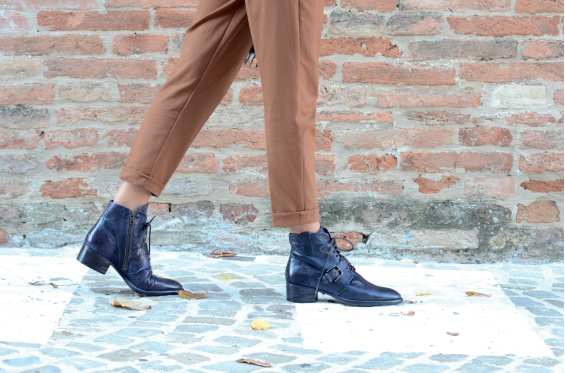 As you may notice from the title, in this article we want to focus on ankle boots (which end before the ankle bone) and appeared for the very first time in 1980. We want to say a few words about them because they are the easiest to be found inside our crammed wardrobes. They can easily be combined with everyday looks, school/work/mummy outfit and then under jeans, midi dresses, long or short skirts, with A or H line dress. They can be matched with almost everything, depending on your body shape of course. We love shoes and bags because we are aware that we can look great with almost any shoe or bag. It doesn't work the same with clothes though. Therefore, unless we are tall enough, we should avoid ankle boots with long pleated/pencil skirts or with wide-leg trousers. However, we can play with nuances by using stockings in the same colour as boots to look taller and create a "long-legs-effect"! To all that girls that are very sensitive to the cold we suggest to wear leggings instead of stockings to harmonize your silhouette. This winter the most fashionable proposals are in eco-leather and you can be sure that there is something to suit every taste and every budget. We conclude by playing with the maxi wool cardigan for men. You can steal something from the closet of your grandfather, father or boyfriend to create a top outfit 100% guaranteed.
If you do feel inspired by some outfits we've talked about or you're getting some great ideas, but your ankle boots unfortunately should be replaced, well…. King Tartufoli is the way!
Fall in love with our new boots and experience style, quality and price never seen before. As they say… you never forget the first time and in the company we know it well because all our customers after the first purchase come back, always come back! As a matter of fact, all our new customers come back for a second purchase! Try and let us know what do you think about. Post pictures with our products, tag us using #kingtartufoli, follow us and stay updated on King Tartufoli world and upcoming events.